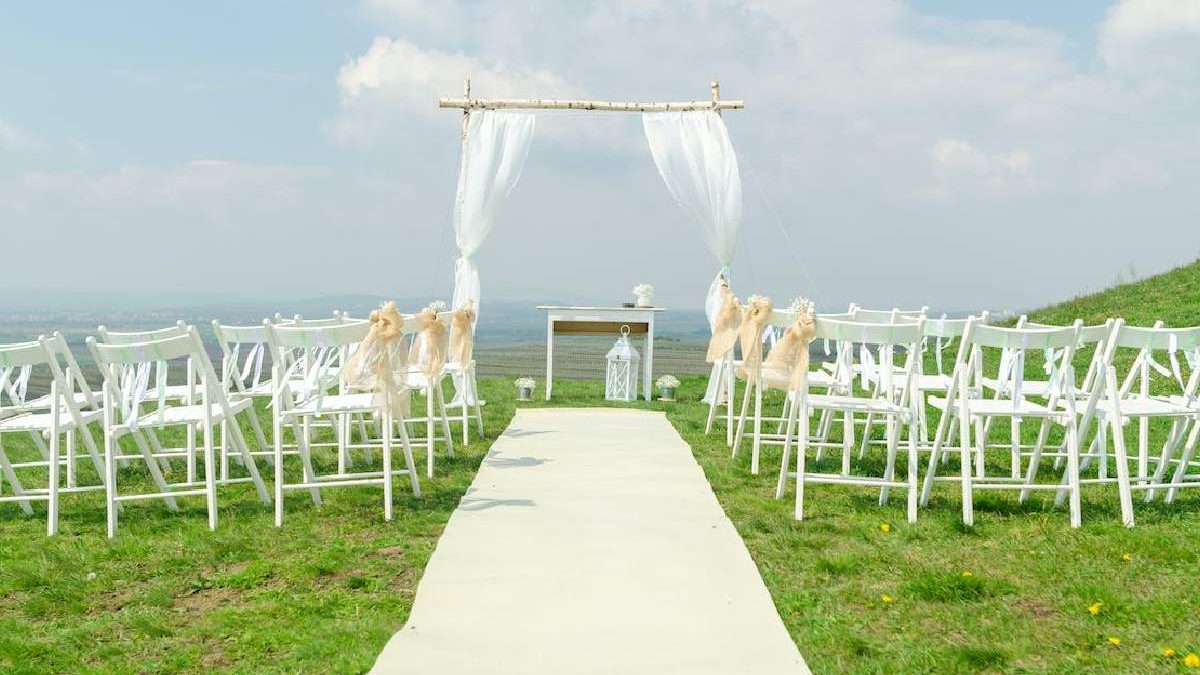 Planning your big day can be a daunting task, but it doesn't have to come at a high cost for the environment. By incorporating sustainable practices, couples can organize a stylish and environmentally conscious wedding celebration without sacrificing their vision. This guide to sustainable wedding planning will provide you with eco-friendly alternatives and tips to keep your big day green.
Venue and Transportation
One of the biggest decisions when planning a wedding is selecting the venue. To ensure an eco-conscious event, consider venues that prioritize sustainability. Some options may include certified green buildings, botanical gardens, or outdoor spaces. These locations often use eco-friendly materials, energy-efficient systems, and responsible waste disposal methods, reducing the environmental footprint of your wedding.
To further reduce your wedding's impact on the environment, consider environmentally friendly transportation options for both you and your guests. Encourage carpooling or provide group transportation like buses or shuttles to minimize emissions. You can also select nearby lodging for out-of-town guests to reduce travel distances. For the wedding party, consider using electric or hybrid vehicles, or even bicycles, if feasible.
Invitations and Favors
Opt for paperless invitations using digital platforms, which eliminate the need for paper production and postage. For example, you could use engagement party invites as a paperless and eco-friendly option. If you prefer physical invitations, use recycled or tree-free paper, such as cotton, hemp, or bamboo. You can also choose a minimalist design, which requires less ink and processing.
Gifts and favors can generate a lot of unnecessary waste, so consider requesting charitable donations or experiences instead of traditional gifts. Provide meaningful, practical, and eco-friendly favors like reusable tote bags or herb seed packets, and use recycled or reusable packaging for any gift or favor items, such as cloth bags, glass jars, or biodegradable materials.
Capturing Memories
Preserving the memories of your special day with photos and videos is important, but there are ways to minimize the ecological impact. Choose photographers and videographers who prioritize digital delivery, reducing the need for physical prints or discs. If physical prints are desired, opt for eco-friendly materials, like recycled paper or sustainable frames. When selecting a photographer or videographer, consider local professionals to reduce travel and emissions associated with long distances.
Catering and Decor
Selecting an eco-conscious catering service can be a significant step towards a sustainable wedding. Try to choose seasonal, locally-sourced, and organic ingredients to reduce the carbon footprint of transportation and pesticide use. Opt for plant-based menu options to reduce the environmental impact of meat production and consider a sharing or buffet-style meal, which helps reduce food waste. Remember, you can donate any leftover food to local shelters or food banks.
Consider eco-friendly alternatives when decorating your venue. Use locally-sourced, seasonal flowers and greenery, avoiding blooms that have been grown using harmful chemicals or shipped from afar. Opt for reusable decorations, such as potted plants, rented items, or items you can repurpose after the wedding. Decorate using natural materials, such as wood, stones, or shells, instead of plastic or synthetic items, and avoid single-use items, such as balloons or confetti – instead, use biodegradable alternatives like petals, leaves, or even birdseed!
Rings and Attire
Your wedding rings symbolize your love and commitment, but they don't have to come at the expense of the environment. Consider ethically sourced metals and conflict-free gemstones from responsible mines or manufacturers. Alternatively, you can repurpose family heirlooms or go for lab-grown diamonds, which have a significantly lower environmental impact compared to mined diamonds. Another option is to select rings made from alternative materials, such as wood, silicone, or recycled metals.
Reduce the environmental impact of your wedding attire by shopping for vintage or second-hand dresses and suits to give a new life to pre-loved pieces. Try to choose eco-friendly fabrics, such as organic cotton, hemp, or bamboo for custom-made garments. Rent or borrow outfits to reduce the need to produce a new garment, or opt for timeless styles that can be worn again for other occasions or redesigned into different outfits.
Conclusion
Remember: even small changes can make a big impact. By incorporating these sustainable wedding planning tips, you can celebrate your special day in style while minimizing your environmental footprint. As you embark on this journey together, let your wedding be the beginning of a lifetime commitment to conscious living and responsible choices.