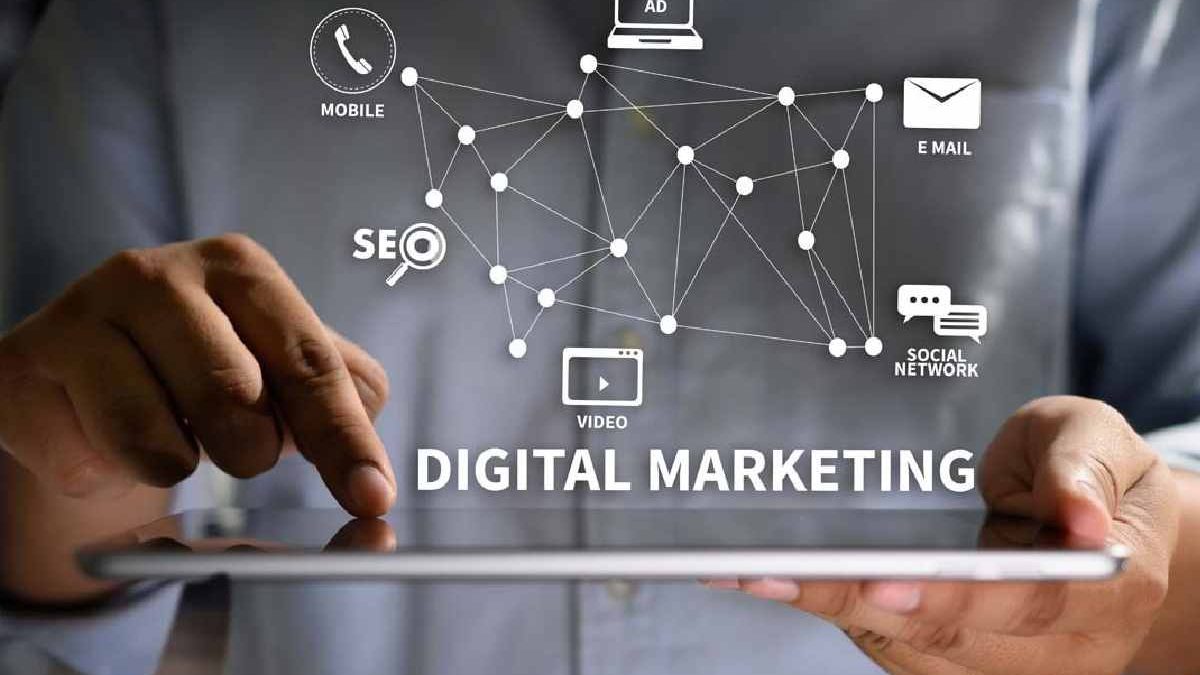 Digital marketing is a series of tactics and strategies implemented through digital channels for commercial purposes. Digital marketing helps professionals and companies position their products and services, communicate with their audience. And above all, found by the right people at the right time.
In the case of artists, professionals, and companies in the cultural sector. Digital marketing must adapt differently, putting emotion and value proposition in the foreground. This is what a digital marketing agency specializes in for artists.
What is digital marketing
Digital marketing dived into different categories, including content marketing, SEO, SEM, social networks, and email marketing. Next, we will see each of them.
[To learn about digital marketing for artists and how to implement it in your project, sign up for our "Position-Art" course on sale right now].
content marketing
Therefore the content marketing is all content created to educate, inform or entertain a specific group of people, generally what we call target audience. It consists of telling your audience about your brand through the content of value and interest to them. To help convert them into customers.
However, this should not be any content but content related to the market or the group of people you are targeting. Your content should talk about their problems and the solutions to them.
To start creating this content, put yourself in the shoes of your ideal client and think about what that person would like to learn about your brand to decide to invest in your art.
More about content marketing
For example, imagine that a newly married couple has just moved into their new home. However, the walls and spaces of this new house are empty, and this means that this couple still does not feel comfortable or at ease in their own home. This would be "the problem" of your ideal client, and of course, your art would be the solution.
You must create content that addresses that problem and leads to the solution you offer for this problem. You can make this content on your blog and title it: "How to fill your house with light and color to feel comfortable." Here you are already offering valuable content because you educate, inform, and entertain while providing your ideal client the solution to their problem. Blogger outreach service involves publishing content on relevant blogs for natural brand mentions.
In addition to offering this content in a blog, other formats that you can choose from are: ebooks, PDF documents, videos, checklists, webinars, among others.
SEO (Search Engine Optimization)
SEO is simply the writing technique used to position your content in search engines. For example, if a person searches on Google: "How to decorate my house with art," the first articles or content that appear have been made using this technique.
Indeed if you are reading this article, it is because you have found us thanks to this technique, since we have optimized the keyword « digital marketing agency for artists » to appear in the first positions of searches
To position content through SEO, you must take into account the following factors:
To study this, some tools allow you to search for the keyword you want to position and analyze the number of searches and the degree of competition. We always recommend choosing one whose competition is low or medium. Choose a keyword that has enough searches per month, usually more than 100 but less than 100K, so the competition is not so high.
You can use tools to do this study: Google Keywords Planner, Google Trends, Answer The Public, etc.
Search Engine Optimization
Once you have chosen the "keyword" to use, you must include it both in the title of your blog. As well as in the first paragraph of your article and in some of the following sections. Underlining it in bold. However it would help if you were careful not to make your communication sound too robotic and write in a way that feels human and natural.
Add the keyword in the meta description of the article. This paragraph will appear next to your article title before people click on it.
Include the keyword in your article's heading1, heading2, heading3 sections.
Link content related to what you are talking about in the article. It is called "on page" and "off-page." On-page" consists of linking articles within your blog. "off-page" consists of linking content outside your blog.
Name the photos you will include in the article with variations of the chosen keyword.
Below is an example of an article positioned with SEO.
SEM (Search Engine Marketing)
SEM consists of paying for advertising so that an article with a specific keyword appears with priority and before organically positioned articles with SEO. One way to identify web pages arranged with SEM is to identify the word "Ad" next to the link.
Social Networks
Indeed this is your favorite part of digital marketing since they are the most available channels. Where most people spend time on the Internet.
Social media marketing consists of designing a content strategy that adds value to your followers. Remember that social networks are there to entertain, inform. Educate and generate community actions to sell your artistic products or services.
Before creating a strategy in your social networks, ask yourself:
If I were my ideal client, what types of content would I like to interact with on social media?
Then, it would help if you chose the social networks you will focus on because it is NOT necessary to be in all of them. It would help if you chose the network or networks your ideal client or target audience.
From there, brainstorm all the types of content you can offer to your followers and start organizing them into categories. You can do this organization in an Excel template or a digital calendar, in which you can set a goal for each publication.
In our digital marketing for artists course. We teach you to step by step how you can create a content strategy on your social networks that allows you to attract your ideal audience. Increase your engagement and visibility, and monetize your art online.
Email Marketing
Email marketing is the direct sending of communications by email, generally for a commercial purpose. However, not every email you send has to include a sale.
Email marketing done right offers valuable content to a list of people who have given you permission to keep in touch with them. Which means they are interested in what you have to offer.
However To create a list of subscribers or databases that will receive these communications. The ideal is to start by offering a valuable free resource. This is known as a lead magnet or lead magnet (subscribers or potential customers).
Examples of lead magnets for artists can be; a virtual sheet a screen saver. A song an exclusive video of your process, an eBook or guide with tips for decorating your home. or acquiring art. It would help if you thought about what content can be helpful and valuable for your potential subscribers and created it.
For potential subscribers to receive this gift, they must register their data in a form that you will provide. From there, receive an automated welcome email with the assistance and a brief presentation of your project.
what is Email Marketing
It would help if you designed an email marketing strategy in which you stay in contact with your subscribers through newsletters or email communications.
Weekly fortnightly or monthly. These newsletters must contain valuable information about your brand for your subscribers, as well as specific and exclusive offers of your products. However, we always recommend weekly or fortnightly.
We always say that a subscriber of your database is worth much more than a follower of your social networks since this person has specifically chosen to receive private and personalized news and communications from you.
Conclusion
Moreover digital marketing is essential for any artist, company, or professional in the artistic-cultural sector, who wants to optimize their brand. Create a community of true fans, and monetize their talent or increase their sales through the Internet.
It is no longer enough to go to school, train in your specialty, and wait for things to happen. It is time to take action and take control of your career and project so that you can truly achieve the results you deserve.