How to have Glowing Skin? Daily Tips for Glowing Skin
New Yorkers Blog, 1 year ago
0
6 min

read
355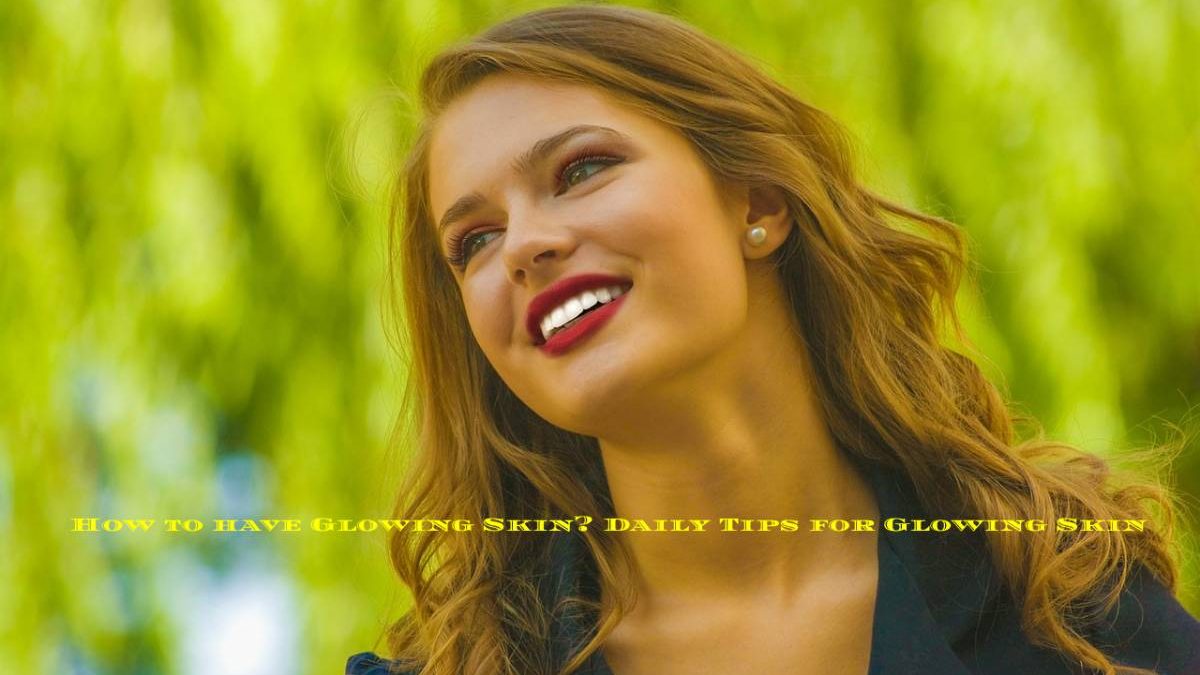 How to have Glowing Skin?
Glowing Skin: We want to glow. You undoubtedly see this slogan prosperous everywhere on social networks, blogs, or even on the pages of your magazines. But what is shine? Glow in the skin's radiance, the aura, and the light that the face gives off naturally, as smooth, powdery, velvety. The glow is also and above all the inner well-being reflected outside. Complex, do you think? Not that much. By combining well-chosen beauty gestures, treatments adapted to your skin type, respectful lifestyle, and well-being, the glow will be the daily life of your skin.
For Radiant Skin: a Less is more Beauty Routine
The glow goes through a less is more beauty routine, understand that the less you do, the better! So, we reconnect with the essential gestures:
Triple Cleansing: makeup removal with oil, Cleansing (cold saponified soap or gentle cleansing gel), and tonic lotion;
Beauty Oil: for a glowy and radiant effect, apply it to the skin still moistened with tonic lotion. We warm the oil well between our hands, and we use it with circular massages on the face, the neck, and the décolleté. The ideal? Practice self-massage with the pulp of your fingers, your palms, and a massage accessory such as a precious stone roll-on or a Gua Sha.
The Ultra-Hydrating Mask: hydration is an essential gesture for a fresh and rested complexion. It will load the skin with hydration and bring it comfort and softness. For a perfect glow, choose an ultra-hydrating mask that you apply twice a week for 15 to 30 minutes, or even overnight instead of your night cream.
How to Restore Radiance to your Skin?
Opt for a minimal routine with an optimal triple cleansing for a perfect complexion without imperfections and radiant skin: Cleansing oil gently eliminates impurities and loosens tension from the face. the canopy dissolves impurities from it. And hydrates the appearance of the face with the luminous essence of Absolution that illuminates in a single gesture.
The glowy tip: take the time to massage your skin well with the makeup remover oil to remove makeup and toxins. For the look, choose a very soft washable cotton makeup remover. It helps to stimulate blood circulation as soon as you remove makeup.
How to have Beautiful Skin and a Beautiful Complexion? our Shock Duo
To reveal the glowing skin and for a healthy glow, bet on a winning duo! First, apply a very gentle exfoliating mask with fruit acids (enzymatic exfoliation), which will nibble away dead cells and rid the skin of impurities responsible for a dull complexion. Then, mix a few drops of a radiance booster with your moisturizer every day to illuminate and provide an immediate boost of radiance.
Nutrition for a Perfect Complexion
Because glow also goes through the inside and food, our top exceptional glow food is our top! Head for foods rich in vitamin E such as almonds, walnuts, or even pumpkin seeds, foods rich in beta-carotene such as carrots, apricots, mangoes, or even sweet potatoes. We also recommend that you consume avocados (and its oil!), spirulina (powder or capsule), berries, lemon, and fruits rich in vitamin C, such as grapefruit or orange.
The Makeup Glow Selection for Radiant Skin
Moreover For a glowing and natural look, head for a simply perfect trio with a Gua Sha to plump up, a foundation base to blur skin texture, and an illuminator to give an immediate boost of radiance.
Daily Tips for Glowing Skin
Beautiful Skin Requires a Healthy Lifestyle
Firstly to preserve your skin, avoid tobacco, alcohol, and excess food, responsible for premature skin aging and the appearance of imperfections. To top it off, make sure you get enough sleep: less tired, your skin will be more radiant!
Water for Well-Hydrated Skin from Within
Composed of 60% water, your body – and therefore your skin – greatly needs to see its reserves renewed daily! Drink at least eight glasses of water a day to maintain good hydration levels and rid your skin of toxins.
At your cadis: the head for the fruit and vegetables! Firstly  Did you know that eating garlic reduces acne? In the same vein, orange promotes collagen production, broccoli regenerates tissues, carrots preserve the skin's elasticity, and avocado brightens your complexion.
For Beautiful Skin Opt for an Adapted Beauty Routine
Problem Skin: Stop Touching your Face
Our hands are in contact with many germs or bacteria throughout the day. Avoid touching your face too often, and wash your hands before applying your cosmetics to limit acne and other skin problems.
Cleansing this Mandatory step for Beautiful Skin
Using a makeup remover that respects your skin type and a mild soap enriched with vegetable oils, remove the slightest trace of makeup and the impurities accumulated during the day. A ritual to perform every day!
Gently Exfoliating Preserves the Beauty of the Skin
Once a week, no more, be sure to exfoliate your face with a very gentle scrub. This treatment rids you of excess sebum impurities and helps tighten the skin's pores. Your complexion will be more radiant, and your face smoother. Morning and evening, take the time to hydrate your skin with a serum, hydrosol, or moisturizer. Also, be sure to seal in that moisture with a nourishing cream or carrier oil.
Get Beautiful Skin Naturally
Ideally, regularly perform treatments based on natural products: hydrosols, essential oils, vegetable oils, and vegetable butter have multiple properties! Incorporate them into your routine and watch the change.
Choosing the Right Cosmetics to Preserve the Skin
Dry skin oily skin is a combination of skincare. Learn to identify your skin type to choose the right products. In addition, when you choose your cosmetic products, whether makeup or skincare, preferably choose healthy products that do not contain substances that are harmful to your health and therefore to your skin.
Acne scars, dark spots, wrinkle. Blemishes leave you dull and dull. Although some cosmetic products can be effective, opt for an institute treatment with a beautician to make the skin more radiant. By listening to your skin's concerns and needs, she can tell you the type of treatment for glowing skin!
Conclusion:
Having beautiful skin is not just a question of cosmetic products: lifestyle and eating habits are major contributors. How to have perfect features and say goodbye to imperfections, it is advisable to adopt daily gestures and a complete beauty routine.
Also Read:
Lip Oils for anyone tired of dealing with Sticky Gloss
6 Natural Beauty Tips for Women – Sleep on it, Break a Sweat, and More
Related posts