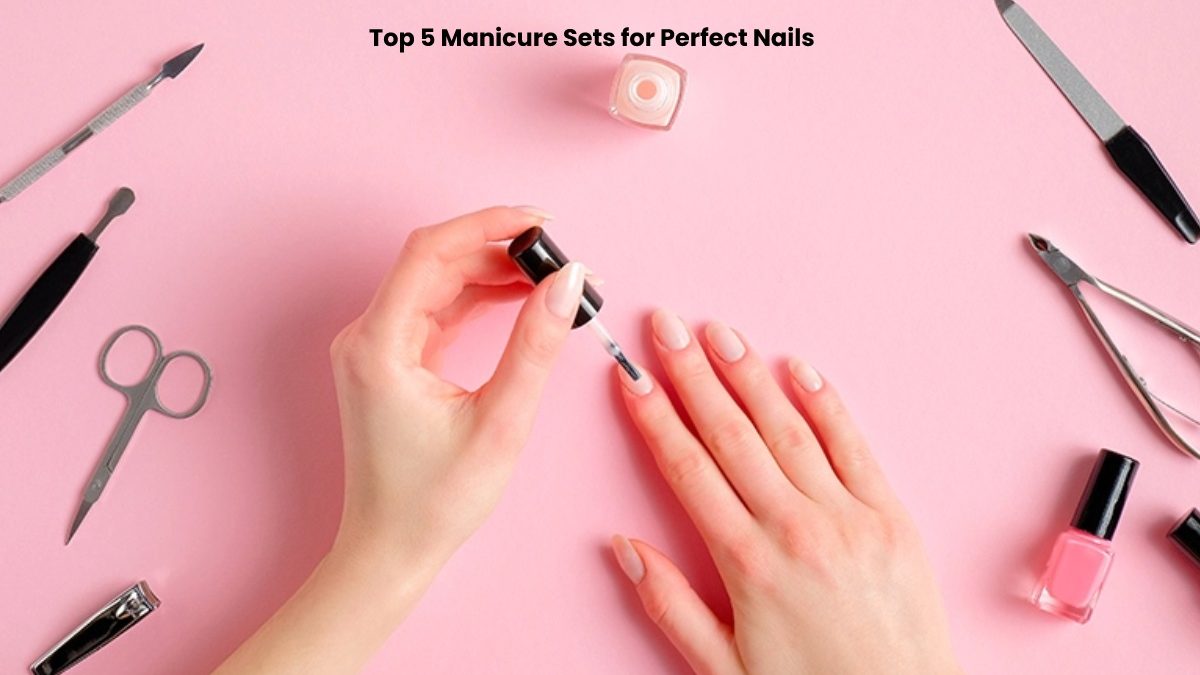 Everyone likes their fresh, salon-grade manicure that attracts the eye and evokes fascination. But even professionally done manicure fades away and peels off over time. And it's not always possible to fit a manicure session into your busy schedule. That's where manicure kits come in and save the day. With the best at-home manicure kit, you can instantly spruce up your mani-pedi or do your nails from scratch without spending a lot of money and your precious time. With the right tool at hand, you can painlessly remove a pesky hangnail, get rid of snags, smooth out jagged edges, and much more.
Below are five top-rated manicure-pedicure sets that you can use at home or during your trips to keep your nails in tip-top condition. No special skills required. Just arm yourself with the right manicure set tools and start shaping, filing, and trimming your nails like a pro.
 4pcs Pedicure Travel Kit German FINOX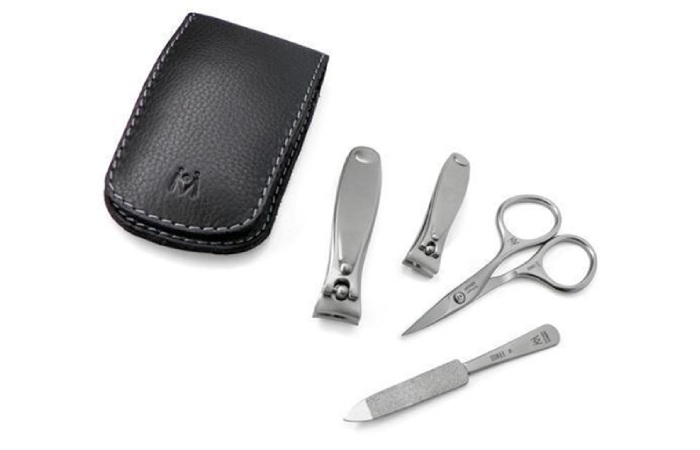 Give your nails proper care with this four-piece pedicure kit, which is wildly popular among frequent travelers. Despite its compact size, this elegant set has all the tools you might need for a DIY mani-pedi.
The ergonomic clippers feature strong and sharp high-carbon stainless steel blades that help you cut fingernails and small toenails to the required length with precision.
Once you're done with your grooming routine, make sure to add your manicure a well-polished look by smoothing out any rough edges with a sapphire nail file.
Need to get rid of those dry cuticles or hangnails? The precisely ground cuticle scissors, which are also included in this best nail care kit, will make this procedure a breeze.
7pcs Nail Kit German FINOX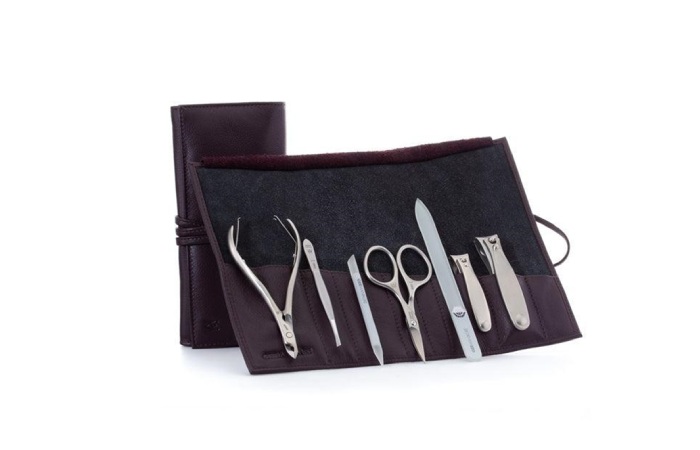 Whether your nails need a quick touch-up or a total overhaul, this seven-piece GERmanicure set will get all your manicure emergencies covered.
The sturdy cuticle nippers will help you remove any stray hangnails in the blink of an eye, while the combination scissors are great for shaping small areas and fixing any dry skin around your nails. In addition to such maintenance basics as cuticle nippers, scissors, and clippers, this kit includes some great extras like high-precision tweezers, a genuine crystal glass nail file, and a crystal glass manicure stick.  It's rightly considered one of the best nail grooming kits on the nail care market. So, don't miss out on this offer.
7pcs Pedicure Kit German FINOX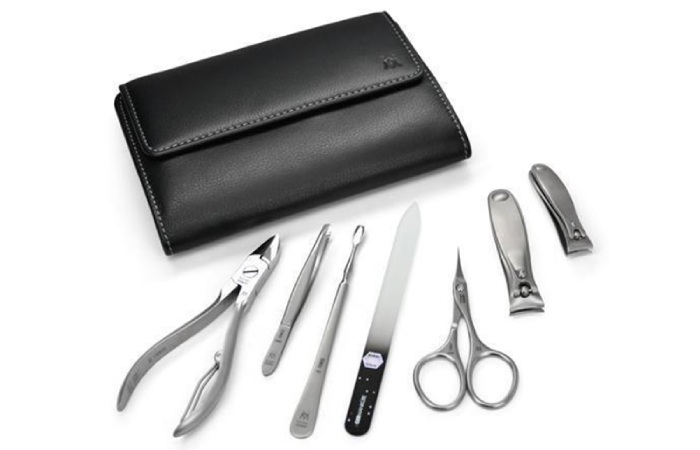 This is another seven-piece nail kit that deserves your particular attention. Similarly to its counterpart mentioned earlier, this extensive set features such essentials as nippers, tweezers, fingernail and toenail clippers, and a glass file, which is exceptionally gentle on natural nails.
On top of that, the set includes a stainless cuticle pusher, which, thanks to its neatly curved tips, allows safely pushing back your cuticles and keeping them in line. For a more immaculate look though, try ergonomic sharp-pointed cuticle scissors.
5pc Manicure & Pedicure Set in Leather Case FINOX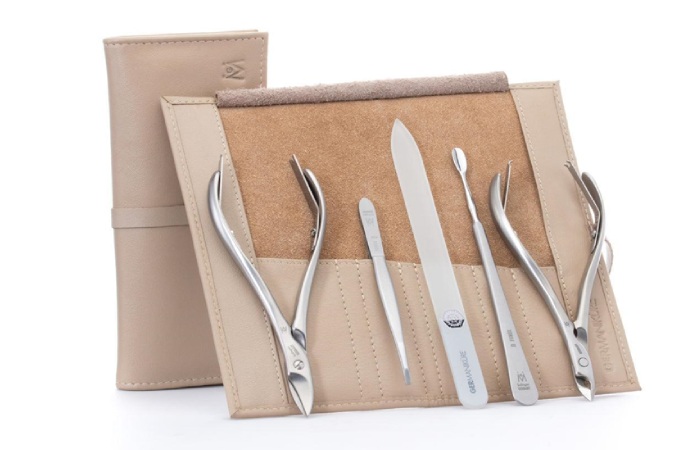 What is the best nail kit for beginners? This elegant, lightweight, and affordable five-piece kit is bound to become your favorite!
Start your nail care routine with sturdy toenail scissors, whose soft tough pliers-style handles and ultra-sharp blades ensure a precise and healthy trim. Though this tool is primarily intended for toenails, you can safely use it for trimming your fingernails, as well.
Create a tidy nail bed with cuticle nippers, whose innovative design and manually sharpened edges allow a clear and smooth cut.
What also comes in this high-quality manicure set are a stainless steel pusher, tweezers, and a glass nail file.
#5 8pcs Manicure Kit German FINOX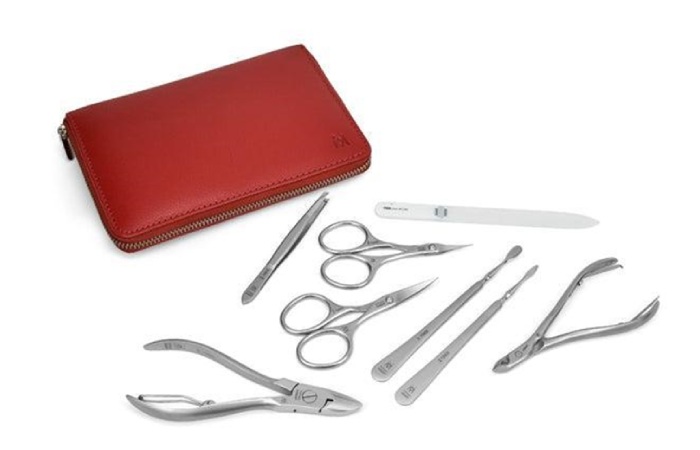 Each of the tools in this luxe kit was designed to cater to your individual nail care needs. It features everything you need for salon-ready nails. Inside this elegant supple case, you can find a pair of cuticle scissors, toenail cutters, a nail cleaner, a cuticle pusher, fingernail scissors, tweezers, and a glass nail file to keep all your ten fingers looking their best.
So, if you're on the lookout for the best professional manicure set, this eight-piece kit might become your new go-to.
Rest assured, each set mentioned on today's list features only manually assembled tools made from high-quality stainless steel and genuine Bohemian glass. All items boast exceptional durability, sustainability, and service life, which makes them the best choice even for the most demanding of the customers. So, if you're looking for the best manicure and pedicure set, look no further these professional manicure kit tools. Just take your pick!
Related posts