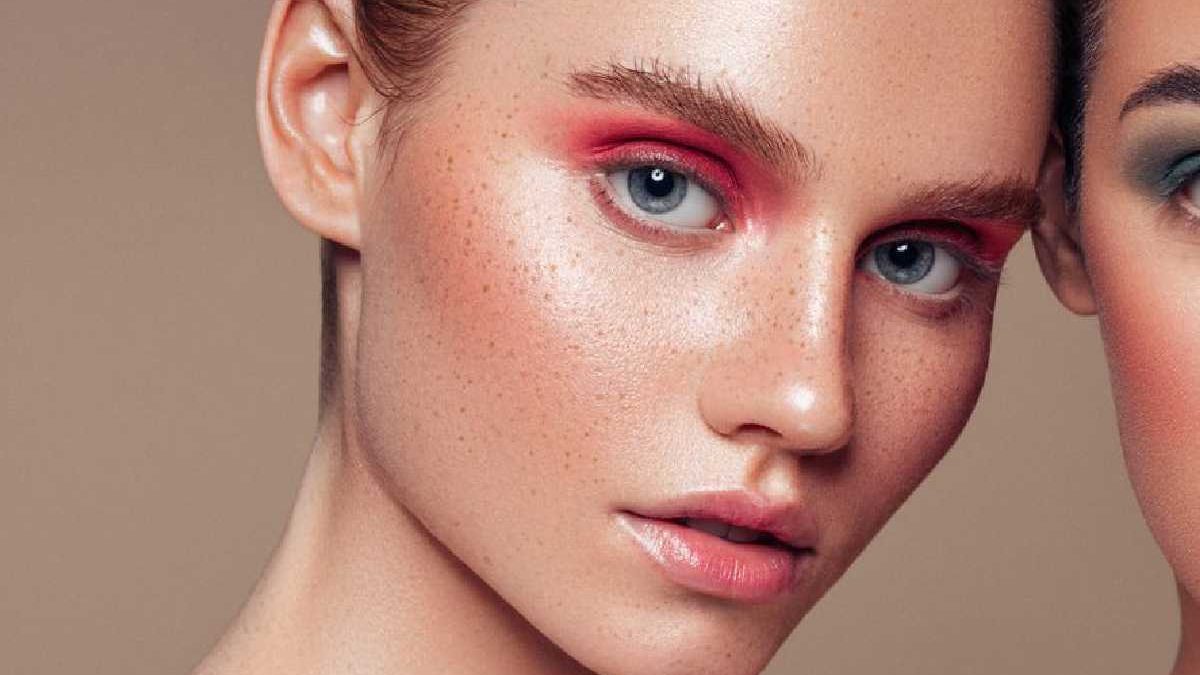 Monochrome Makeup – Do you like to play with makeup without spending hours and hours on it? Then the monochromatic makeup trend 2022 is your thing. Here we tell you more about what it is, how it uses and the best tips to create a super look.
Why is Monochrome Makeup in fashion?
Because it brings harmony and a bit of carefreeness to your look and it doesn't take too long! Also, in pandemics, a remarkable colour impact makes your beauty routine more entertaining.
To follow this makeup trend, you should use products of the same colour on the eyes, lips and cheeks. Of course, monochrome looks are essential for this type of makeup.
Monochrome Makeup 2022 on eyes
To wear unique eye makeup, you must have a palette on hand where all the tones are similar. If you're short on time, apply a layer of colour to the entire eyelid, and you're good to go! You can now continue making up other areas of your face.
But if yours is a more dramatic look, try a layering variation of the same shade. To do this, you can use a monochrome eyeshadow palette inspired by the Dior Oblique collection.
It combines three ultra-pigmented shadows in a single case, which help you achieve an impact look. In addition, each one has different effects: metallic, matte and glitter!
Its highly concentrated texture provides intense colours with just one pass. And if that wasn't enough, it comes with three applicators: one with a foam tip, one with eyeliner and another long brush for shadows.
Tips for Monochrome Makeup 2022
Start with neutral tones: Don't worry if you feel intimidated by monochrome eye makeup! Many celebrities who wear monochromatic makeup keep their makeup within soft, subtle colours like beige or pink. It would be greatest if you started small and neutral.
You can choose a warm colour that complements your skin tone. Lancome's Hypnose Monochrome Eyeshadow Palettes are powered by "wet" technology and feature incredible fresh, natural styles. They are also perfect for every skin tone.
For example, if you have tanned skin, choose brighter shades of pink to brighten your face. The shades of the Hypnose palette shade 12 Rose Fusion are the best for this case.
If your skin tone is lighter, monochromatic makeup colours like coral or peach will highlight your face. Find them in the Hypnose shade 3 Brun Adore palette.
Use your monochrome shadows for other areas of the face: you chose an excellent blue colour for a monochromatic makeup 2022, but you only have that colour in your eye shadows! So please do not give up: take the shadows, mix them with other products and apply them to the different areas of your face.
You blend your shadows with a bit of translucent setting powder to tone your cheeks. It will give you a dramatic, velvety tint. You can also apply the shadows directly on the cheeks with a sponge or your fingers.
You can wear slightly different shades: Still don't know where to start for the 2021 monochromatic look? Please do this by reviewing your makeup and organizing it by colour families. It will create a perfect monochromatic combination for cheeks, lips and eyes.
Remember that the colours don't have to be the same shade. But they need to be similar and continuous to avoid an uneven appearance. Also, it ensures that your makeup stays in the same monochromatic style.
Monochrome makeup in 5 steps
Prepare your skin with a bit of moisturizer. Then apply a foundation to hide any imperfections. Finally, seal with powder to set colour and eliminate shine.
Choose the shade you want from your Lancome or Christian Dior eyeshadow palette, apply it on the mobile eyelid and the lower lash line. Then, blend for a more subtle finish.
Line the upper beltline with a black tone, thus increasing the prominence of your look. Do it with a thin, fine stroke to create a soft look. Then, use mascara to give your lashes more strength.
Apply makeup on the cheekbones and lipstick in the same shade as the eye shadows.
Finish off your 2021 monochrome makeup with a bit of highlighter on the inner corner, cheeks, and bridge of the nose.
The 2021 monochrome makeup trend has arrived to free us from the routine. And, of course, it's the perfect excuse to renew your makeup or treat yourself!
Also Read: BigMusic In